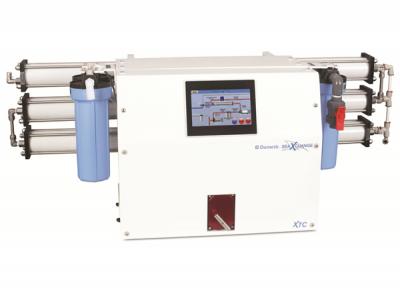 Click images to enlarge
Products » Water Makers » Dometic XTC1200Z-230V Watermaker
Dometic XTC1200Z-230V Watermaker
Price:
$23,699.00
Calculate freight
XTC1200Z-230V Watermaker
1,200 GPD Seawater RO System
The Dometic Sea Xchange XTC watermaker lets you enjoy the freedom of fully automatic operation with the backup reliability of mechanical override for full redundancy and peace of mind.
Operation is easy and dependable. The built-in 7 in. (178 mm) color touchscreen display with a marine-ready enclosure meets the National Electrical Manufacturers Association (NEMA) 4X rating, which ensures resistance to corrosion, water, windblown dust, and external ice formation. Its color graphics are easy to read and understand. An optional remote LCD touchscreen is also available.
Providing true one-touch operation, proprietary programmable logic control (PLC) software monitors and regulates all system functions without operator intervention. You can relax onboard knowing your water production is optimized and ongoing.
Another unique, innovative advantage—the XTC Series provides remote access via smartphone, tablet, or computer from anywhere in the world using Dometic's embedded Smart Touch Integrated Intelligence Control (STIIC) software. No other watermaker system provides this two-way interactive intelligence. It lets you monitor your system and troubleshoot problems via the Internet and a free app. You can check your system's status, change settings, turn it on, turn it off, or diagnose a problem remotely.
Additional features include automatic freshwater flush and seawater membranes that are commercially available.
Key benefits:
The only fully automatic watermaker with mechanical redundancy
Framed models can be disassembled for modular installations
Integrated 7 in. color touchscreen display
Unique PLC software monitors and regulates all system functions
316SS high-pressure pump
316SS booster pump and motor shaft
TEFC motor with thermal motor protection
Vibration isolation mounting system reduces noise and vibration
Remote control on smart phone, tablet, or computer
Fully upgradable from 600 GPD (2,271 LPD) to 2,200 GPD (8,328 LPD)
Note: This watermaker has 2 membranes, not 3 as shown in picture.
Specifications

Voltages @ 50/60Hz (V)

230

Production Per Hour (gal)

50

Production Per 24 Hours (gal)

1200

Amps @ 60Hz (A)

14.1

Amps @ 50Hz (A)

15.4

Booster Pump Amps @ 60Hz (A)

4.4

Booster Pump Amps @ 50Hz (A)

4.3

HP Pump Amps @ 60Hz (A)

7.7

HP Pump Amps @ 50Hz (A)

8.2

Membrane Quantity

2
Download Data Sheet
Reviews
No reviews exist for this item