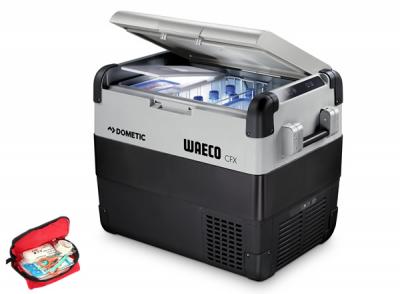 Click images to enlarge
Products » Fridges » Waeco Portable Fridges » Waeco CFX-65DZ Portable Fridge / Freezer + Bonus Pack
Waeco CFX-65DZ Portable Fridge / Freezer + Bonus Pack
Price:
$1,649.00
On Sale:
$1,165.00
Free flat rate freight! See if you qualify:
Waeco CFX-65DZ portable fridge & freezer. 12V / 24V / 240V camping fridge/freezer. Compressor refrigerator with the latest CFX VSMO2 electronics.
The new WAECO CFX fridge/freezer range is the result of many years of research and product development. After gaining an understanding of the Australian leisure market, Waeco have taken your feedback into account to develop a fridge that is tough enough to endure the harshest Australian environments. If it will perform there, it will perform anywhere and in any situation.
WAECO CFX provides extreme cooling performance and energy efficiency. All five models have generous internal capacities, combined with substantial insulation thickness all round - lid, sides and bottom. They are equipped with rugged features like strong latches, hinges, drop down handles and innovative technology such as the new genuine WAECO compressor and upgraded VMSO (Variable Motor Speed Optimisation).
So whether you use it for 4WDriving, camping, fishing, for extended holidays enjoying this vast country, or just for a day trip or for the daily chores - with WAECO CFX, you can go anywhere!
Scope of Delivery
What's included?
Waeco CFX-65 Dual Zone (DZ)
12/24V DC Ciggarette Cable
240V AC Cable

Bonus Pack Includes:
- First Aid Kit

Specifications
RRP

$1649.00

Configuration

Fridge and freezer (fridge and freezer compartments + dairy section)

Gross Capacity

53 litres total (17 litre freezer, 36 litre fridge)

Voltage

12/24 volts DC and 100 – 240 volts AC

Power input (AC230V)

Approx. 50 watts (@230 V AC, 5 °C interior, 32 °C ambient)

USB charging outlet

5 V / 500 mA rating

Power consumption (DC 12V)

Average current draw x running time. Average 1.9 Ah/h (@12 V, -15 °C interior, 32 °C ambient temperature)

Temperature range
+10 °C to -22 °C
Although capable of -22 °C due to energy efficient design, minimum setting of -18 °C recommended for normal usage
Insulation

CFC-free PU foam, substantial thickness on lid, bottom & sides

System
Fully hermetic WAECO ACV20DC compressor with integrated control electronics

Low voltage protection adjustable for leisure and starter battery via electronic system

Electronic fuse/automatic reverse pole protection, dynamically ventilated wire tube condenser, aluminium rollbond evaporator
Material
Cabinet & lid: Polypropylene, Handle ends: Glass filled nylon, Handle rod: powder coated steel,

Hinges: Die cast stainless steel, All screws are stainless steel
Colour

Body: pale grey/black; lid: pale grey

Weight

23.2 kg

Dimensions

W661 x H561 x D455 mm (D725 incl. handles)

Quality Features

Detachable lid, interior light. CFX VMSO2 electronics with soft start and turbo cooler, USB port, 4 point M6 nutserts in base.

Scope of delivery

DC and AC connection cables, removable wire basket, spring-loaded carrying handles

Warranty

3 year full warranty + additional 2 year (parts only) on compressor
Download Data Sheet
Reviews
No reviews exist for this item