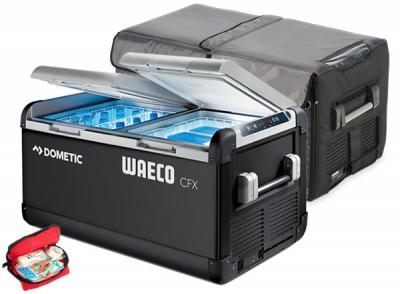 Click images to enlarge
Products » Fridges » Waeco Portable Fridges » Waeco CFX-95DZ2W Portable Fridge / Freezer + COVER + Bonus Pack
Waeco CFX-95DZ2W Portable Fridge / Freezer + COVER + Bonus Pack
Price:
$2,099.00
On Sale:
$1,555.00
Free flat rate freight! See if you qualify:
Waeco CFX-95DZ portable fridge & freezer. Dual compartment with WiFi app. Compressor refrigerator with the latest CFX VSMO2 electronics.
It is the biggest WAECO CFX in the range and has some unique features that are in addition to the WAECO CFX series.
The CFX-95DZ2 has two compartments that can each operate independently in any combination as fridges or freezers and have the ability to achieve -18°C simultaneously in up to 32°C ambient.
Exclusive to this model, the CFX-95DZ2 also comes with a Wi-Fi CFX app that allows the user to control the temperatures of the compartments from their smart phone or tablet.
CFX-95DZ2 Product information and App FAQs
Scope of Delivery
What's included?
Waeco CFX-95DZ2 Dual Zone 2 (DZ2)
12/24V DC Ciggarette Cable
240V AC Cable

Bonus Pack Includes:
- Insulating genuine cover
- First Aid Kit

Specifications
RRP

$1899

Configuration

Separate compartments independently controlled as fridge or freezer

Gross Capacity

94.5 litres total (54 / 40.5 litre compartments)

Voltage

12/24 volts DC and 100 – 240 volts AC

Power input (AC230V)

Approx. 70 watts (@230V AC, +3°C/-15°C interior, 32°C ambient)

USB charging outlet

5 V / 500 mA rating

Power consumption (DC 12V)

Average current draw x running time. Average 1.25 Ah/h (@12V, +5 °C interior - both compartments, 32°C ambient temperature)

Temperature range
+10°C to -22°C in both compartments
Note:
i) temps below -18°C not recommended or necessary for normal use,
ii) both compartments can run at -18°C simulteneously at ambient temps up to 32°C)
Insulation

CFC-free PU foam, substantial thickness on lid, bottom & sides

System
Fully hermetic WAECO ACV25DC compressor
2 x aluminium rollbond evaporators with independent control electronics and displays
3-level low voltage protection
Electronic fuse/automatic reverse polarity protection
WiFi transmitter
Dynamically ventilated fin/tube condenser
Material
Lids: polypropylene
Cabinet: ABS & painted zinc steel
Handle ends: Glass filled nylon
Handle rod: Powder coated steel
Hinges: Die cast stainless steel
All screws stainless steel
Colour

Body: dark grey steel with light grey ABS base & top collar, Lids: dark grey

Weight

32 kg

Dimensions

W957* x H472 x D530mm (*includes handles)

Quality Features
Detachable and reversible lids, interior lights with lid open alarm, USB port, 4 point M6 nutserts in base, WiFi enabled, spring-loaded handles. Click here for further features.
Scope of delivery

Fridge & freezer with separate compartments and lids, DC & AC connection cables, three removable wire baskets

Warranty

3 year full warranty + additional 2 year (parts only) on compressor
Download Data Sheet
Reviews
No reviews exist for this item