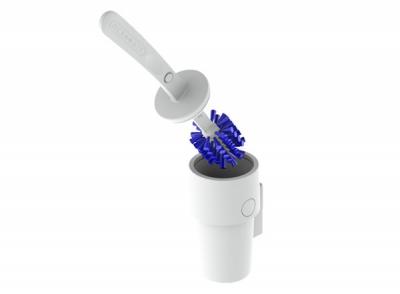 Click images to enlarge
Products » Ocean Air Blinds » Brush & Stow
Brush & Stow
Price:
$49.00
Calculate freight
A compact cleaning brush, perfect for use in yacht heads
Brush & Stow is a unique cleaning brush, specifically developed to tackle the challenges of Marine bathrooms. Engineered to fit the small toilet bowls commonly found in yacht heads, the Brush & Stow is wall mounted, holding still in motion. The non-contact replacement feature allows for easy replenishment of brush heads and a lock-in lid also keeps shower water out, while trapping odours in.
Entered in to the DAME Awards 2016, the Brush & Stow was recognised with a "Special Mention" for its innovative design. "The Jury commended the product for addressing all the disadvantages normally associated with using a toilet brush aboard a boat, and the design proved that the most basic of equipment can still benefit from great design"
Key features:
Wall mounted for stability
Small brush head, custom designed for compact travel toilets
Seal keeps shower water out, while trapping odours in
Replaceable brush heads available
Push-release for non-contact brush head replacement
Clip-in lid, to secure brush into bowl
Removable bowl for easy cleaning
Discrete and compact, perfect for any bathroom, whatever the size
Click here for more info
Reviews
No reviews exist for this item