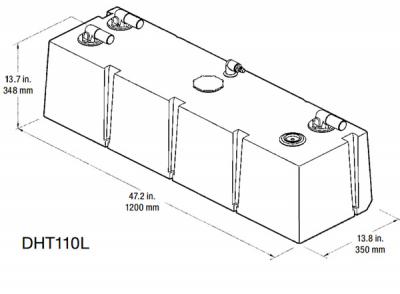 Click images to enlarge
Products » Marine Sanitation » Holding Tanks » DHT110L Holding Tank System
DHT110L Holding Tank System
Out of Stock
Calculate freight
*Available Upon Request*
"No Discharge" is no problem with new pre-assembled holding SeaLand tank systems. With five popular tank sizes, boatbuilders can easily outfit any boat in their line with a high-quality holding tank, and assure customers of long-lasting performance and efficiency.
Available in capacities of 11, 16, 23, 29, and 36 gallons, SeaLand's five new holding tanks are pre-plumbed with inlet and discharge fittings, a vent fitting, inspection port and pressure relief valve. Each "plug 'n play"-style tank is pressure-tested and ready to install – just bolt it down, fasten the hoses, and hit the water.
High-strength polyethylene tanks feature a heavy-duty wall thickness of 0.25-inch to maintain integrity even under high pressure, and to avoid permeation of tank wall with waste odor. Built-in mounting "feet" allow fast, secure bolting to the hull without restraining straps. Top-mounted inlet, discharge and vent fittings rotate to accommodate virtually any plumbing layout. Inlet and discharge fittings accommodate 1.5-inch ID sanitation hose, but can be adapted to other plumbing system dimensions. Also included with each tank are an extra inlet fitting, plug, sealing grommet and hose lubricant for easy hose attachment.
SeaLand DHT-L series holding tanks are sized to fit on the most popular boat models and lengths.
Key Benefits
Pre-assembled with all required fittings and ports
Five sizes to fit wide range of boat models
Heavy-duty polyethylene tank withstands high pressure
Tank walls resist waste odor permeation
Specially designed discharge fittings are clog-free and minimize tank residual
Five-year limited warranty against cracking or leaking
| | | |
| --- | --- | --- |
| Model | Capacity | Empty Weight |
| DHT42L | 42L | 5.4kg |
| DHT61L | 61L | 7.7kg |
| DHT88L | 88L | 10.2kg |
| DHT110L | 110L | 14kg |
| DHT137L | 137L | 14.5kg |
Inlet fitting

1.5 in./38 mm sanitation hose
or PVC pipe

Outlet fittings

1.5 in./38 mm sanitation hose
or PVC pipe
Vent fitting
0.625 in./16 mm ID vent hose

Inspection port

3 in./76 mm FPT
Specifications subject to change without notice
| | | |
| --- | --- | --- |
| Materials | Tank | Polyethylene, 0.25 in./6.3 mm min. thickness |
| | Fittings | PVC, ABS |
| Colour | Tank | Natural |
| | Fittings | White |
| Contents | 1x holding tank | 1x pressure relief valve | Accessories |
| | 1x inlet fitting | 1x inspection port, cap | 1x inlet fitting |
| | 1x vent fitting | 2x hose lubricant, tubes | 1x sealing grommet |
| | 2x outlet fittings | 1x instruction manual | 1x plug |
Dimensions
| | | | |
| --- | --- | --- | --- |
| Model | Height (mm) | Width (mm) | Length (mm) |
| DHT42L | 348 | 350 | 460 |
| DHT61L | 348 | 350 | 660 |
| DHT88L | 388 | 400 | 800 |
| DHT110L | 348 | 350 | 1200 |
| DHT137L | 388 | 400 | 1200 |
Notes:
"H" dimension indicates height to top of pre-installed fittings. Specifications subject to change without notice
Reviews
No reviews exist for this item