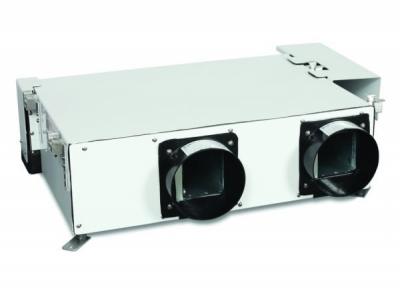 Click images to enlarge
Products » Marine Air Conditioning » Air Handlers » Dometic Cruisair ATL12HV Low-Profile Air Handler
Dometic Cruisair ATL12HV Low-Profile Air Handler
Out of Stock
Calculate freight
ATL-HV Series Low-Profile Air Handlers
The ATL-HV series of chilled water air handlers represents an improved design approach to low-profile, draw-through air handlers. These "open top" units allow easier maintenance access and reduced dimensions overall.
The top panel of ATL units can be removed for mainenance access to the blower(s). In this way, the unit can be serviced without disturbing the drain pan. The drain stems face aft (toward the blower side) to minimize footprint. Furthermore, the optional electric heaters are mounted on the blower discharge instead of inside the plenum, thereby eliminating the depth added to the plenum area for 6k-18k units.
The ATL-HV series features dual high-velocity (HV) blowers. Optional "WhisperCool" DC blowers are available. These blowers are ultra quiet yet strong enough to overcome high-static-pressure duct.
Capacities of the ATL-HV series are 6k, 9k, 12k, 18k, 24k & 36k BTU/hr. All ATL blowers are mounted horizontally for an exceptionally low profile, making these units ideal for height-restrictive installations. They can be suspended from above or supported from beneath and suspension hardware is included. Vibration-isolation mounts reduce noise and the transmission of vibrations to the installation platform.
The drain pan has an anti-slosh, anti-fungal foam lining and extends to under the valve motor and plumbing. The water connections are insulated against secondary condensation, and the valve can be mounted on the left (standard) or right (optional).
Key benefits
Suspend from above or support from beneath (hardware included)
Vibration-isolation mounts reduce noise and vibration
Bypass valve has removable power head for simple servicing
Valve body is soldered to unit to prevent leaks
Electrical box can be remotely mounted up to 1.8m
Remote air bleeder on 1.8m of flexible tubing with ball valve
Optional DC "Whispercool" blowers are extremely quiet yet powerful enough to overcome high-static-pressure duct
Valve on left (standard) or on right (optional)
Automatic flow control helps balance chilled water distribution throughout the boat
Optional Breathe Easy microparticle air filter
Click here to view Spec Sheet (6k-24k)
Call for availability
Reviews
No reviews exist for this item