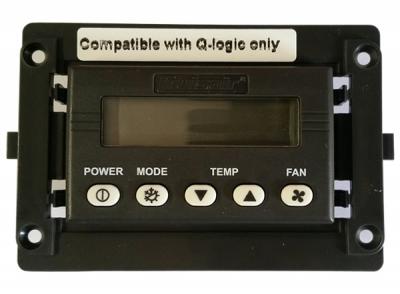 Click images to enlarge
Products » Marine Air Conditioning » Accessories » Cruisair Digital Control QHT (Grey)
Cruisair Digital Control QHT (Grey)
Price:
$415.93
Calculate freight
The Cruisair Q-Logic Control System is designed for use with both direct expansion evaporators and tempered water air handlers. This dual microprocessor-based control consists of a power/logic circuit board in the system's electrical box that operates with Qht and Q3 control/displays.
An optional CAN-bus network adapter is available for new Q-Logic systems and as a retrofit for existing installations. Supporting both the Qht and the Q3 controls, this adapter provides ship-wide network monitoring and controlling of multiple DX systems or air handlers. The CAN-bus adapter adheres to CAN-bus Standard 2.0B and is fully ISO compliant. It is available in two CAN-bus communication protocols to support connection to several popular helm and cabin touchscreen control systems.
The Qht control/display is European in style and accommodates an assortment of decorative bezels — including a new model sized to fit the popular Vimar Eikon bezel. The Qht display features raised buttons for easy access and control and an attractive blue backlit LCD.
Easier menu-based programming
Smarter error/fault codes
Timed setting for air filter replacement
Automatic dehumidification
Optional humidity sensor to monitor and control relative humidity
Optional outside-temperature sensor
Optional electric heat package
Better serviceability with separate off-board compressor triac.
Inside temperature sensor and display cable are identical to SMX platform
Optional CAN-bus network adapter for monitoring and controlling multiple DX systems or TW air handlers
Qht supports both Vimar® Idea, Vimar Eikon, and Gewiss® Playbus bezels
The Qht's elegant, panel-mount design can be installed in the same cutout as the SMX II SMXht, however it must be operated by a Q-Logic board
Reviews
No reviews exist for this item