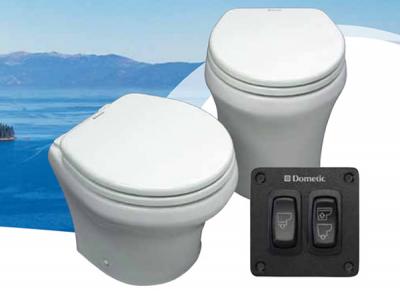 Click images to enlarge
Products » Marine Sanitation » Sealand Marine Toilets » Sealand 8100 Series Macerator Marine Toilet
Sealand 8100 Series Macerator Marine Toilet
Price:
$1,758.75
Calculate freight
Macerator Toilet with Flush Switch Panel
For a powerful macerator toilet in an easy-to-install, easy-to-use fixture, SeaLand 8100 series MasterFlush toilets offer an alternative with appealing value.
The electric toilet and flush control panel are the only components to install - no external control module is necessary.
SeaLand 8100 series macerator toilets provide two flush settings to help manage water use: "Normal" flush adds a small amount of water to the bowl after every flush; "Dry Bowl" flushing does not add water to the bowl. Because flushes are controlled by how long the flush button is pressed, average consumption is estimated at 0.6 gallons (2.3 liters) per flush.
Key Benefits
Powerful macerating flush

Angled back and small footprint fits against hull in small head spaces

Normal and Dry Bowl flush options

Solid enameled wood seat with elongated opening

Through-the-floor or through-the-wall discharge fittings

12 V DC or 24 V DC operation
Click here for more info.
Please Contact us for availability
Technical Specifications
Toilet Technology

Macerator

Method of Operation

Flush Switch

Height (in)
Standard Profile: 18.38
Low Profile: 15.00
Overall Height (mm)
Standard Profile: 467
Low Profile: 381
Width (in)

14.76

Overall Width (mm)

375

Depth (in)
18.38
Overall Depth (mm)
467
Wall to base front dimension (in)
Standard Profile: 15.00
Low Profile:14.00
Wall to base front dimension (mm)
Standard Profile: 381
Low Profile: 356
Water supply flow rate (lpm)

7.6

Input Voltage (V)

12V DC

Circuitbreaker Fuse (A)

20

Empty Tank Product Weight (kg)

Standard Profile: 23.1
Low Profile: 19.9
Download Parts Breakdown
Reviews
No reviews exist for this item